January 26, 2017
[solved]Temporarily lost network connection on O365
Few days ago, I was requested to bulk upload the users on the O365 to create an account. During the upload of the users, faced the error with 'Temporary lost network connection'. But when I tried with the users less than 25, it was working good. Although on doing same thing before with more than 25 users, I have never faced such issues but at this point I was stuck. Even though user creation was successful, I was getting issue on 'View your results' and that was crucial for me because that is the point where I get the bulk users temporary password. If that portion is not accessible than it's worth less for me to use bulk upload. So here are the few steps how I did it, how I got error and how I resolved the error.
Scenario:

There was a scenario that one of my client wants to create a few users account on the Office 365 for those who were recruited recently. I thought that was simple job and shared them the link on how to upload the bulk users on the O365, but they came back asking me that users were created but we had a problem of Temporary lost network connection and can't get the Password. To make sure the process was right, I started to monitor it. Make them to prepare the proper format of CSV file and save it. After that asked them to go on the Admin Center and to select 'Import Multiple Users. As of the below snap, they have provided the list of the user on CSV format which has been validated and is good to move forward.
They selected the license for those users who are going get created and selected on 'Next' but after the few minutes… error got appear saying 'Temporarily lost network connection'. I tried to get back and do this twice but got stuck with same issue. So, I selected 'Close without Sending'.
When I Clicked on 'Close without sending', and refreshed my Active users. I started to see all those users whom I wanted to add…. But the worst thing is, I do not have their Temporary password. I thought anyhow users has been created, why don't I reset the user password in bulk. So, tried to reset user password in bulk but yet… I am having same issue… no email has been send to the admin.
Resolution:

So, looking over all we don't have solution yet for the Bulk user upload. And administrator even not getting any temporary password for the users. Hence I thought go with different angle, and thought to try with OLD view of Office 365.
On the old view, first I removed all those newly created users and tried to upload those users. Provided the path as of below and selected on 'Next'.
Validated and verified the users list, if they are okay to upload or not and clicked on 'Next'.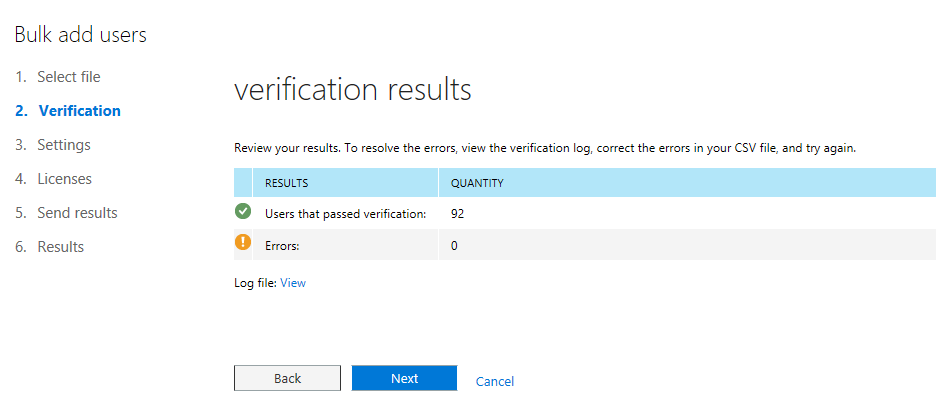 To mark easy to those users who will be created soon for any worst cases, I have selected 'Blocked' provided my location and clicked on 'Next'.
Kept the administrator email id and selected to 'send email' and clicked on 'Create'.
Now this is the time, I need to get if it gets succeed or not?? I waited for a while and bingo…. I got the result with success and temporary Password.
Thus I concluded that there might be some issue with Bulk user upload on New looks of Office 365, but if you go to old school you might get success…. And everything new is not better always :P.